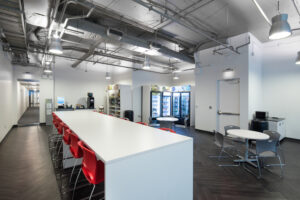 Virtual Office Solutions in Bethesda with Access to Private Offices and Meeting Rooms! 
When you're just starting your business, it can be difficult to acquire new clients when you work from home. Even if you display the utmost professionalism and strive to provide the highest quality product or service, being located in a casual or home environment can be off-putting to prospective clients. For this reason, Pioneer Office Suites in Bethesda, MD, right off 495 and 270. We offer virtual office plans that give your business a professional mailing address, as well as access to meeting rooms – both of which have numerous benefits. Having a virtual office gives your business a physical location that prospective clients can visit, which helps boost your credibility. Additionally, meeting rooms provide a professional space for you to meet with clients, giving them the impression that your business is successful and well-organized. 
Having a prestigious mailing address can be a great selling point for business owners and potential clients alike. All of your company's mail will be forwarded to the business office address, and you'll have a reception service that answers calls with your company's name. This can give your business a professional image and help you stand out from the competition. 
It's important for any business to hold face-to-face meetings in addition to communicating over the phone. We provide the use of professional meeting rooms so you can conduct business in an upscale environment, as opposed to a coffee shop or your own living room. All meeting rooms have high-speed internet connectivity and allow you to make unlimited local and national calls. 
If you're looking for an affordable and flexible virtual office solution, we have you covered. Our receptionists will take care of all your administrative tasks, mail, and messages, so you can focus solely on your business. 
For more information on our virtual office plans and office rentals, visit Pioneer online today.